A home theater PC is, in a nutshell, a PC that's supposed to complement and control your home entertainment setup. It can be a glorified bluray player, or it can be a full-blown media server. Modern HTPC nerds may have a plethora of tasks they need to accomplish for this niched DIY hobby, so I'm going to throw all that functionality into a single box, staring the Silverstone GD08 case.
Uses
Plex Server
NAS Box
Bluray Player
Bluray Ripper
Re-encoding video
Torrent Box
All these tasks together comprise the entire pipeline of running your own media server: acquiring, processing, storing, and watching video. Some come with specific hardware needs.
The NAS box is required for the Plex server. Assuming your library is large enough, you may need to setup a RAID array of multiple hard drives. And lots of hard drives means RAID cards and a case designed to house them all.
To function as a bluray player, you need a discrete GPU capable of serving 4K video. It doesn't have to be the latest greatest Nvidia behemoth, but it's not a negligible expense either. And of course you need a bluray drive. If you intend to rip blurays, the drive should be a specific model with firmware that allows you to do so. Additionally, the case should have drive bays to accommodate the disk drive.
To reencode video, you need a not-terrible CPU. Ideally paired with a budget motherboard to keep costs down.
Parts
The exact parts I used can be found on PCPartPicker. But some of them were chosen because they were already on-hand. You may want to modify your build to account for the parts you salvaged.
Undeniably the star of the show, this was the difficult part to pick. Not many cases have a disc bay AND an absurd amount of hard drive space. But even if you do want to go with something else, I'd strongly recommend sticking with the Silverstone Grandia series. They have smaller less expensive models if you find this one is overkill.
The GD08 boasts a separable drive cage that houses:
2x 5.25″ bays
8x 3.5″ bays
2x 2.5″ bays
The dual blurray players, which is not something I plan to take advantage of, means you can rip one disc while watching another. Or, in theory, switch between consecutive discs for extended movie marathons without ever interrupting playback. But that's only with supporting software.
The dual 2.5″ bays mean multiple SSDs. Not even a feature I would know what to do with.
And the 8 HDD bays means approximately 64TB of physical storage, assuming you're using the Seagate Barracuda 8TB drive (best GB/$ of any harddrive out there)
Note the case does not come with enough SATA cables, so you will need to buy more. I got nine 18-inch cables, and three 12-inch ones. All with right-angle connectors on the end (you'll thank me later for that decision).
Bluray Drive: LG WH16NS40
For this, you have only 2 options: the LG WH16NS60 and the ASUS BW-16D1HT. These drives support ripping of bluray discs. More details are on the MakeMKV forum. I'll cover it in a later post.
Mass Storage: Seagate Barracuda 8TB 5400RPM
I started out with 2 drives. At time of writing, I bought a third. A finished build would have 8 of these bad boys. Most GB/$ of any storage medium out there. Some people may prefer harddrives specifically made for NFS usecases, but this product has served me well in the past.
You will need to buy extra SATA cables, since your case and motherboard aren't going to come with enough. I bought 12 for safety.
SSD Storage: Kingston A400
This one is very unimportant. I simply picked the cheapest possible storage drive I could find that would fit in one of my unsued 2.5″ bays. When I shopped for parts, the answer was this 120GB SSD. Feel free to reassess if you need more storage for your OS, or if the product is discontinued.
CPU: AMD Ryzen 1700X
I picked this CPU for no reason other than it was from an old build.
Anandtech did a review of the 3rd gen Ryzen processors' video-encoding performance when compared with older Intel and AMD CPUs. It provides a general idea of the performance to expect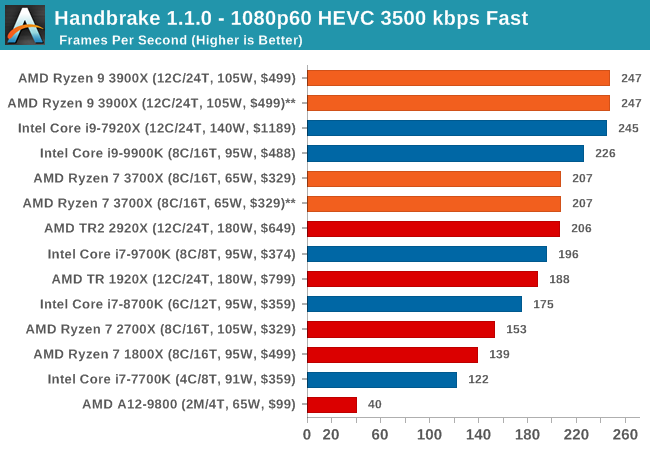 RAM: G.Skill Aegis 2x8GB DDR4-3000
Here, capacity is all the matters. Speed and brand is unimportant. Contingent on your requirements for uptime and media quality, 8GB could be plenty. However, with 8GB, you cannot stream 4K video and re-encode a different movie at the same time. If you aren't hosting 4K content, you'll only need 8GB for this build. If you are hosting 4K content, you will have to pause any 4K re-encode before streaming 4K. Both cannot be done simultaneously with only 8GB of RAM. If you are running 24/7 re-encodes and sharing your Plex server (or simply don't want to bother pausing the re-encodes), then you will need 16GB. Note that the budget motherboards used for builds like this only have 2 RAM slots, so intermediary values are not available.
GPU: Radeon R5 230
To use this as a Blu-ray player, you will need a GPU that can stream 4K video. Note this is mostly future proofing, as Linux currently doesn't support HDR. Wayland is making movement on that front, so maybe it'll be available by the time you're reading this. But as of time of writing, I don't have HDR on my HTPC build.
The minimum Nvidia card I would recommend is the GTX 750. Acceptable alternatives would be
GT 1030
GT 1050Ti
GT 1050
GTX 750Ti
GTX 750
The minimum AMD card I would recommend is the R5 230. Acceptable alternatives would be
R5 230
R7 250
RX 460
RX 550
Of course, you can always find a CPU with integrated graphics, but I will not discuss that strategy here.
Motherboard: Asus PRIME A320M-K Micro-ATX
Generally, you should pick a motherboard with a budget chipset, and one that is paired for whatever CPU you happen to go with.
| | |
| --- | --- |
| Chipset | Compatible CPUs |
| AMD A520 | Ryzen 5000 Series |
| AMD B450 | Athlon, Ryzen 1000 Series, Ryzen 2000 Series, Ryzen 3000 Series |
| AMD A320 | Athlon, Ryzen 1000 Series, Ryzen 2000 Series |
| Intel H110 | 6000 series (i3, i5, i7), 7000 series (i3, i5, i7), Pentium G4000 series, Celeron G3900 Series |
| Intel B150 | 6000 series (i3, i5, i7), 7000 series (i3, i5, i7), Pentium G4000 series, Celeron G3900 Series |
| Intel B250 | 6000 series (i3, i5, i7), 7000 series (i3, i5, i7), Celeron G3900 Series |
| Intel H310 | 8000 series (i3, i5, i7, i9), 9000 series (i3, i5, i7, i9), Pentium G5000 Series, Celeron G4900 Series |
| Intel H410 | 10000 series (i3, i5) |
| Intel H510 | 10000 series (i5), 11000 series (i5, i7, i9) |
Now, the natural downside of budget chipsets is their limited capacity for SATA ports. The A320 chipset supports 6, but you'd be hard-pressed to find a motherboard with more than 4. It's essential to leverage the PCIe slots to install RAID cards for extra SATA ports.
RAID Cards: IO Crest 4 Port SATA III PCI-e 2.0 x1
Honestly wouldn't suggest anything else. No affordable motherboard is going to have the 10 SATA ports you need for all your drives, so RAID cards are a must. Budget motherboards add additional constraints. Most only come with 4 SATA ports and 2 x1 PCIe lanes. That leaves 6 devices you need to attach to 2 RAID cards that must fit in an x1 slot. This is the only product that meets those criteria. Admittedly, it's rather slow for a PCIe card. So I wouldn't recommend using it for a RAID of SSDs. Paired with 5400RPM hard drives however, the drives become the bottleneck.
Power Supply: Corsair RMx 650W 80+ Gold
This was admittedly overkill. A 400W PSU should do fine for this build. I would still recommend getting an 80+ Gold certified PSU simply due the the time and effort it would take to replace the sheer amount of data you're hosting. See the power supply calculator here to get a figure for your exact parts list. Keep in mind that power supplies are most efficient when not at full capacity, so add a 25% margin on whatever number Newegg gives you.
Carriage Assembly
Although the case does advertise reversible HDD orientation, I've found my experiences do not corroborate that. I'm unsure how the leftmost slot even mounts, but the other 7 cannot all be populated when facing the wrong way. I recommend the orientation above for all 8 bays: cover facing right, connectors facing left.
For the 2.5″ SSD, invisibly mounted above the disk drive, avoid using a right-angle connector. It will be facing the wrong direction (up), so you're better off with a straight connector instead.
As for power, the case comes with 3 SATA power cable ribbons, each with 3 connectors on them. If you plan on filling out this carriage, I recommend buying a fourth.
The connectors on these ribbons are long enough to power every other drive, meaning they can alternate for straighter paths and a more compact wiring solution. Use a 4x and a 3x cable to populate all 7 bays on the left. I recommend running the long portion of the cable along the bottom, and then doubling back for the best wire management (seen below). A simple pair of 3x's can power the CD, SSD, and leftmost HDD.
You're done!
With hardware out of the way, I'm going to continue this into a series discussing the software setup of this HTPC's various functionalities. They will be linked in this section as they come out.
Newegg, please let me join your affiliate program.